Hospital Solution
Backgrounds
With rapid evolution of network communication technology and continuous improvement of medical technology, to enforce safety awareness and rescuing ability, then create comfortable environment for treatment, and build informational and intelligent medical system, is getting more and more focus from the healthcare industry.
Hospital is well known that large flow with various people. Besides, in some places, the relationship between medical institutes and patients are strained, these potential factors threaten personal and property safety of staffs and patients, as well as hospital security management.
Solution
After deeply analyze and understand healthcare industry, TVT launch the medical comprehensive surveillance solution , it mainly consists of:
Surveillance System: include video monitoring, intelligent analysis (VCA), alarm system, access control, and one access card solution.
Remote medical system: include baby remote visiting, ICU ward remote visiting, online expert consulting and so on.
Topography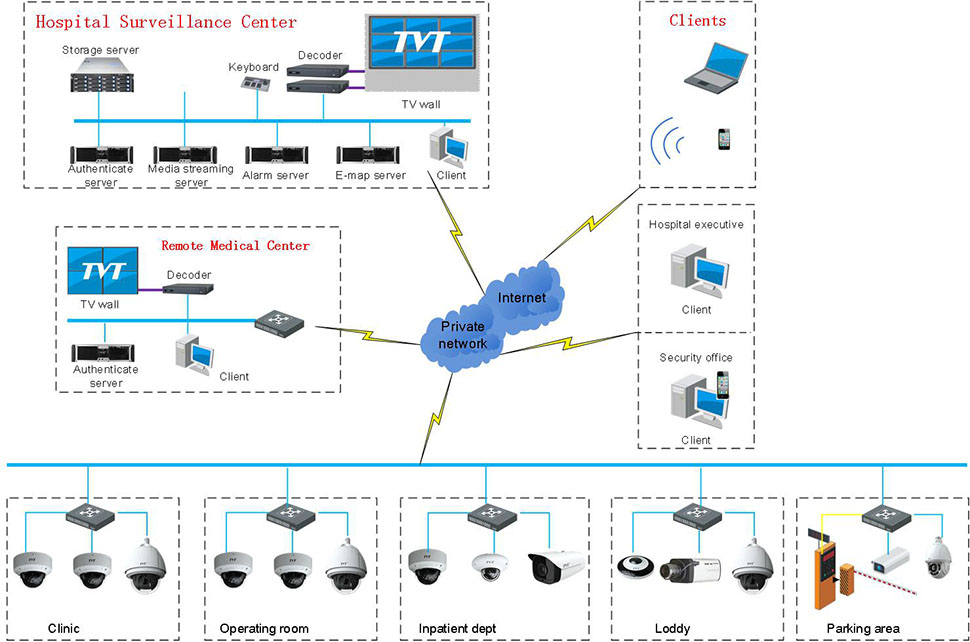 Customer Benefits
Full deployment: :Install camera at perimeter, entrances, inside activity area and corridors, outpatient dept / inpatient dept, elevator / fire passage, parking area, etc, with entire video surveillance in hospital.
Intelligent analysis: intrusion detection around perimeter, people counting at lobby, abnormal behavior detection, LPR parking management, face recognition and black-list face database comparison, alarm linkage control system and access control system.
Special application: high-definition surgery teaching, baby remote visiting, ICU ward remote visits and online expert consultation, medical training and case study.