Bank Solution
Backgrounds
With the development of financial industry, high technology is widely adopted in different areas, and shows its great benefit. People are not only asking for digital, networked and high definition system, but also a system that gradually developed with intelligence and integration.
High-tech criminal is more and more often, manpower or traditional video surveillance is far away enough. Integrate different security systems into one solution, thus improve the management efficiency and service quality, this already has become the target for security solution in financial industry.
Solution
TVT launch the intelligent financial security solution, by adopting video surveillance system, IOT and access control system, together with face recognition ,VCA and database management technology , it is perfect deployment for video capturing, transmission, management ,monitoring and sharing in bank security surveillance system.
Topography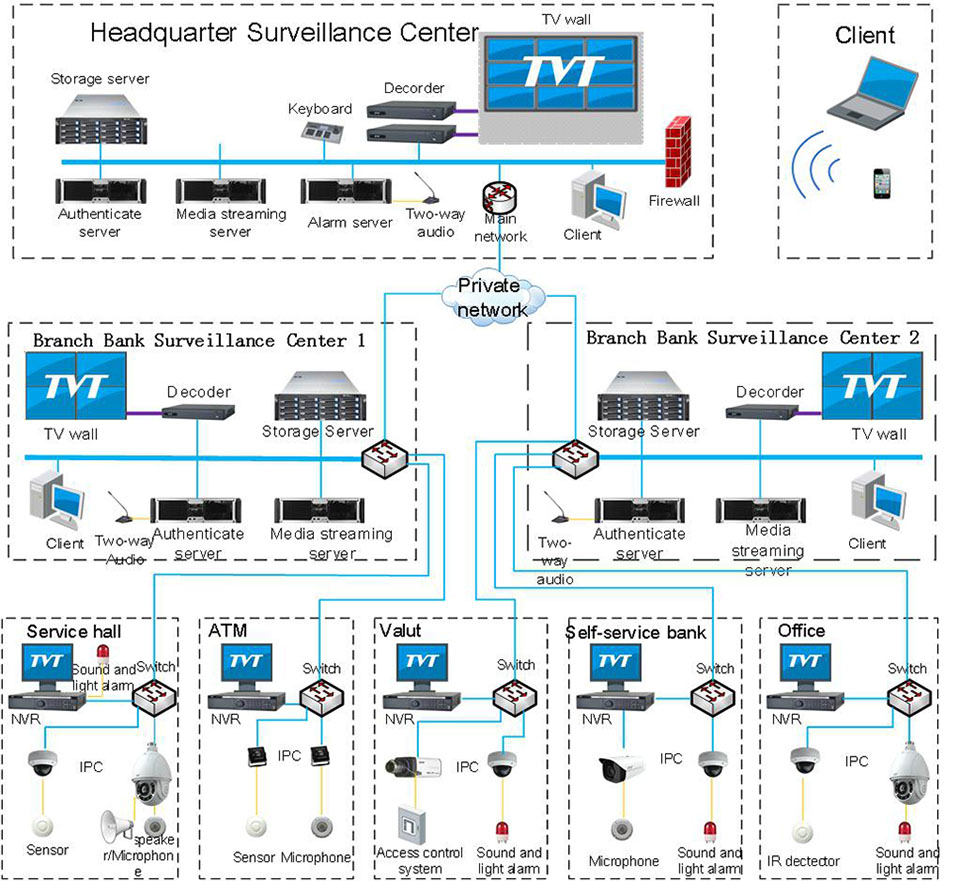 Customer Benefits
Improve monitoring efficiency with remote control: easily manage real-time preview, video record and playback for all monitoring points.
With VCA technology and precaution system, quick response to emergency: include intrusion detection, item care, abnormal video detection ,behavior analysis and so on; also with early warning ,fast response and automatic linkage mechanism when events happen.
Improve service quality with Intelligent application: Deploy face recognition solution, access control system and linkage precaution system at ATM and vault. Adopt people counting solution and intelligent customized service for VIP clients in business hall, it will be a big help that enhance customer satisfaction and bank operating regulations.
Good compatibility with multi systems: integrate video surveillance, intelligent analysis, data analysis, access control system and other subsystems into one solution; it helps a lot for overall dispatch and management.