Industrial Park Solution
Backgrounds
With continuous development of the surveillance technology, video surveillance system is widely deployed and the scale is gradually growing. Industrial park solution which asks for larger scale and more complicated requirement day by day, becomes one of most important security market.
Because of technology limitation during the past years, in many industrial parks, they have independent video surveillance system, alarm system, parking system, access control system and digital patrol, separated one from each other, can't quickly linkage, hard to match the daily demands.
Solution
Based on video system, together with advanced smart algorithm, TVT video surveillance solution will be equipped in entrance and important area.
The surrounding perimeter will be first defense line, with various types of sensors, can immediately trigger alarm when event happens, also linkage to Video surveillance system, can easily achieve real-time tracing and afterwards evidence.
Deploy video surveillance and parking system at the main entrance, can keep the tracing, guide, and charge for the vehicles
Deploy access control system at the entrance of the office, factory and warehouse area; employee can enter to the authorized area by access card.
Deploy digital patrol system, set patrol points at main route, staircase, server room and warehouse, together with manpower patrol, achieve double benefit, thus make the zone much safer, and easier to handle as well.
Topography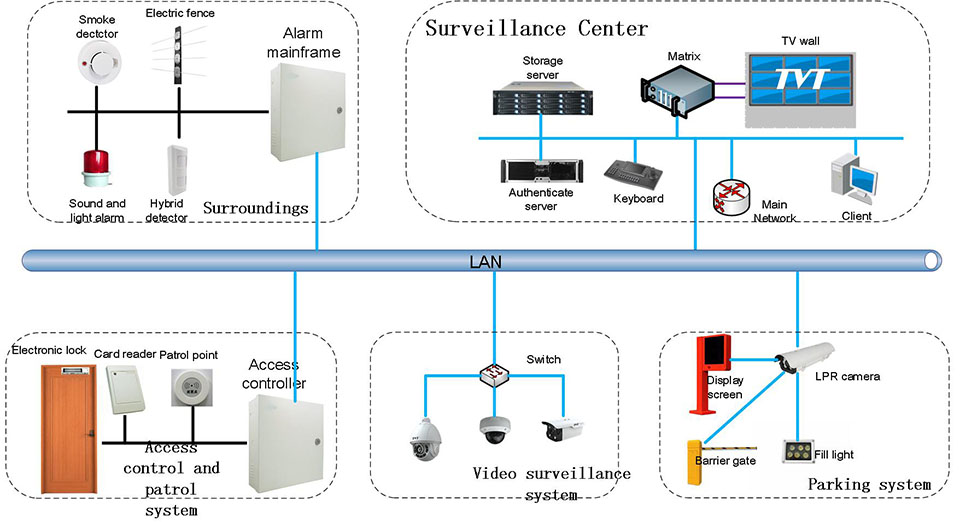 Customer Benefits
Base on video surveillance system, integrate all security systems into one management platform, can properly utilize the data from different systems, and easily linkage and exchange data to each other.