Community Solution
Backgrounds
With the much better life quality now, people more and more concern about external communication, info service, and security and property management for their home. Residential community, with diversified, safe, comfort and convenient living environment, becomes the ideal target for most families.
Video surveillance, Vehicle management, video intercom and digital patrol systems are relatively independent, hard to make system integration, then also big trouble for Community administrators to manage.
Solution
After analyzing the daily needs from owner and administrator, TVT develops multi protecting solution base on video surveillance system.
Install HD Camera at main entrances as the first protective barrier, moreover, can deploy smart camera at important area.
Install camera at lift lobby in each floor and main entrance as the second barrier.
Besides, together with premier precaution, visual intercom, digital patrol and Vehicle management system, the administrative and security staffs can quick response to various situation, also correctly explain the actual circumstances during emergency.
Topography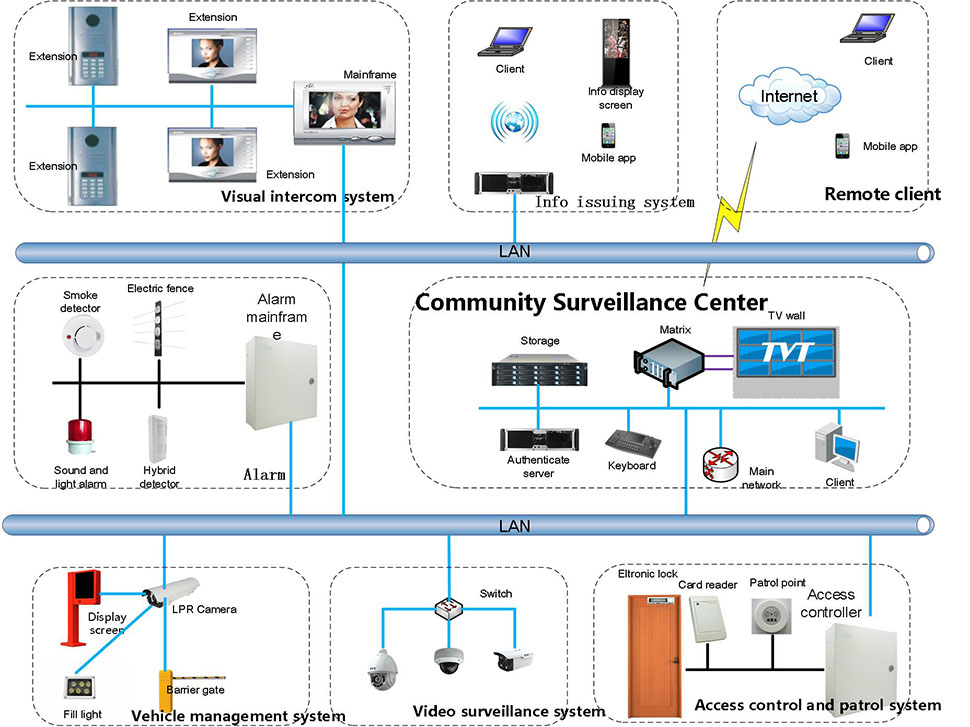 Customer Benefits
Intelligent management: rely on new technology and security system, reduce the human cost and uncertainty caused by human management, it helps the administrator dept improve the service quality and efficiency
Remote home care: the owners can make video surveillance at home, ensure propriety security and remotely look after the elderly and children.
Additional service: with latest framework, various data interface is reserved, by accessing to latest IOT, mobile internet and ICT, can upgrade it as a convenient and comfortable intelligent community.